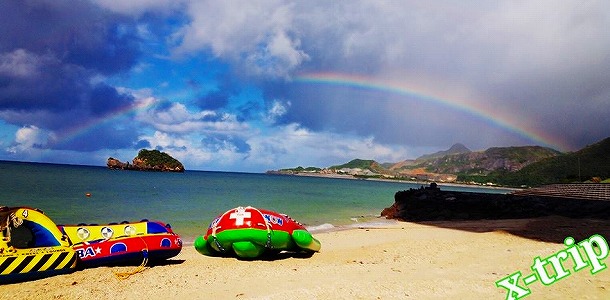 About Us
Welcome to the X-trip Japan homepage! We are a water sports company based in Nago city, Okinawa. Located just 15 minutes from the Okinawa aquarium, we provide the finest of ocean activities available. From flying through the skies on the back of our parasailing parachute, to exploring the floors of the ocean scuba diving, we have a wide range of activities availabe for you to enjoy!
Menu List
Joining Quarifications
・Please note that women who may be pregnant cannot participate.

・People with certain medical conditions may not be able participate. If uncertain, please contact us in advance.

・For prior preparation (wet suits, flippers etc) and due to certain limitations, please don't forget to fill out age, height, weight and foot size accurately when making your booking.

About Booking
・Please make your reservation at least one week in advance.
・During July and August we are very busy and chances are we are full, so please make your reservation early.
・If you don't inform us of the name of the hotel in advance, we can't make contact with you so please be sure to let us know.
・Please fill out a registration form in advance , then send it by e-mail.

・Minors (Under 20) require a parent's signature on a registration form.
・Please take motion sickness drugs if needed.
Payment
Due to the uncertainty of location, for consistecy we accept cash only.
Cancellation
Cancellation fees will apply:
A week before: 30%
The day before: 50%
On the day: 100%
About the day
・Please come 30 minutes before your reservation time.
・Since it is local set and local dismissal, we ask you to travel by car.
・Venue might change depending on the state of the ocean, so we will contact you to confirm the meeting location the day before.
Facilities
We have 2 main base locations: One at Hotel Resonex Nago, and our own shop at Motobu Okinawa (google map locations above).
Depending on your course, as well as the weather conditions, our activities will take place at any of 3 locations:
Sesoko Island - Mainly marine entertainment, flyboarding and hoverboarding
Minna Island - boat diving and snorkeling
Resonex beach
We will contact you the day before to inform you at which location to meet. If you are staying at a hotel, we will also send a map to the chosen location to the front desk of the hotel.
List of Belongings
・Swimsuit
・Beach sandals
・Towel
・Change of clothes
・Sunscreen
・Something to drink
Flow until the day
Please send a registration form by e-mail one week before the participation.
The day before the implementation date (17:00-19:00), we will FAX details such as the schedule and the meeting place to the front desk of your hotel.
Contact us
If you have any question, feel free to contact us at:
Email: x-trip@x-trip.jp
Phone: 0980-51-8888
Book / Inquiry